Garden window cost is about $1,000 installed to more than $6,500.
Prices vary by the size and complexity of the windows plus the features they include such as moving sashes, shelves and premium seatboards. Stock garden windows are more affordable than custom garden windows. Some sellers, such as Lowes, include garden windows in a broader category called projection windows. Some manufacturers refer to them as plant windows.
In this garden window price guide, you'll discover your size and design options for these specialty windows, pros and cons and a table of prices you can use to compare costs with other window types covered in the window guides we've produced.
There are two basic garden window designs, those with and without moving sashes. Most garden windows have at least one shelf plus a board or seat at the bottom of the window made from a range of durable, attractive materials.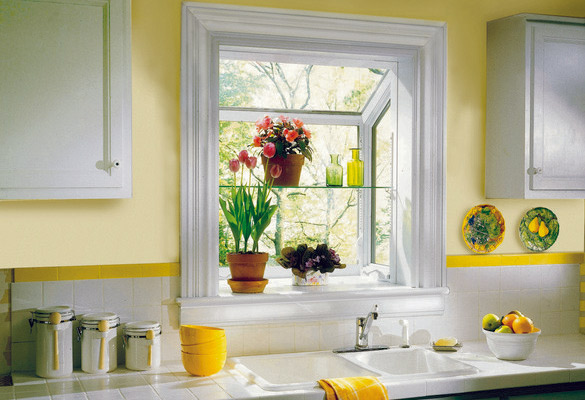 Fixed Garden Windows
All the panes in a garden window are fixed, so they don't provide ventilation. These are less common, but more affordable. Shelves are usually optional on these garden or plant windows. 
Combination Garden Windows
These windows include one or more sashes that open for ventilation. If the sides open, they are either crank or push-style casement or single/double-hung windows. If the front opens, it is usually an awning window with arms that hold it out and up. All else being equal, combination garden windows cost more than fixed windows.
Buying tip: While windows with moving sashes are more expensive, they will be better for your plants and home. Garden windows are something like mini greenhouses. The heat can build in them, and having a moving sash to vent some of that heat will produce a healthier environment for your plants and prevent excess heat from entering your home.
Best Garden Window Brands
Many of the brands reviewed here on Window Price Guide manufacture garden windows. Andersen includes what it calls "bay box" garden windows in its popular 400 Series and the high-end E-Series. Windows are either wood clad on the exterior with vinyl or aluminum or wood with Andersen Fibrex exteriors.
Simonton makes a similar window in all vinyl, though it differs in that the top is a slanted windowpane and is more affordable. You'll also find garden or plant windows as you browse window collections from Milgard, Champion, Harvey, Window World and a few others.
There are also specialty garden window brands like Solar Innovations and Meadow View. These windows are almost always vinyl. Most are white, though some brands give you a few other color options.
Perhaps we're pointing out something obvious, but it makes sense to first consider garden windows from the company that manufactured the rest of your windows, because they will match those windows more closely.
Who doesn't make garden windows? They are not available from Marvin, Pella, or MI Windows. While the items are hard to find on the Jeld Wen window site, the company does make a limited line of plant and garden windows.
Garden Window Features and Options
Both fixed and combination garden windows share a range of common features and options. Garden windows are made for new construction and for replacement.
Garden window features: All but the cheapest garden windows feature thermal glass to prevent heat from leaving in winter and penetrating in summer. The glass is usually tempered too for structural strength. The top pane is slanted to cause rainwater to run away from the house.
Garden window options: Not all options are available in all garden window lines. Here's an overview of what you'll find as you shop garden windows.
Frames & Hardware – Vinyl garden windows are the most common frame types, though wood garden windows are made too, as in the Andersen 400 and E-Series. Frame color options include white, beige, tan, clay, brown, bronze and gray and you might be able to select different inside and outside colors. Hardware is offered in similar colors.
Glass & Grilles – Obscure glass textured for privacy is available in several styles, and glass can be clear or tinted in several shades. Grilles in various styles can be added. Many lines include or offer as an option a glass shelf.
Garden window sizes:
Height range: 24" to 64"
Width range: 24" to 72"
Custom sizes are available from most leading brands that make garden windows including Simonton, Andersen and Milgard.
Pros and Cons of Garden Window
A garden window filled with colorful flowers or fragrant herbs in attractive pots is a lovely addition to a kitchen, breakfast nook, bedroom, bath, stair landing or home office. And it allows more natural light into your home.
You've got a fair spectrum of sizes and options to tailor a window to the installation location, and custom garden windows can be made to fit any opening. Not all manufacturers make windows specifically labeled as garden windows, but bay and bow windows, available in far more sizes and styles, can serve as a garden window.
Garden window cons begin with cost, and you get the quality you pay for. Cheap garden windows aren't structurally durable, offer few options and lack tempered and energy-efficient glass. As features and quality improve, the garden window price goes up, and this window is often the most expensive in the home, unless there's a bay or bow window too. Because garden windows extend from the house, they aren't a good choice for areas adjoining patios, decks and walkways
Garden Window Prices for 2022 / 2023
We cover just garden window prices in this table. Bay windows and bow windows are covered in their own guides.
The wide range of sizes accounts for the cost range.
Single-Hung Window Prices and Costs

Window Type

Unit Price (Supply Only)

Unit Price (Including Installation)

Fixed (no sashes)

$925-$3,900

$1,375-$5,400

Combination (1 or more sashes)

$1,250-$5,000
$1,600-$6,500
Garden Window Prices by Brand
These are installed prices. You can save approximately $500 to more than $1,500 installing your own based on whether it is new or replacement and the size of the window.
| | | |
| --- | --- | --- |
| Brand | Fixed Windows | Moving Windows |
| Andersen 400 | $1,900 – $4,500 | $1,850 – $5,350 |
| Andersen E-Series | $2,250 – $5,800 | $2,800 – $6,500 |
| Champion | $1,250 – $3,900 | $1,600 – $4,750 |
| Harvey | $1,750 – $4,300 | $2,200 – $5,350 |
| Jeld Wen | $1,850 – $4,350 | $2,650 – $6,100 |
| Meadow View | $1,450 – $4,400 | $1,900 – $5,150 |
| Milgard | $1,350 – $3,650 | $1,800 – $4,200 |
| Simonton | $1,800 – $4,400 | $1,900 – $5,000 |
| Solar Innovations | $1,700 – $4,500 | $2,250 – $4,950 |
| Window World | $1,250 – $3,800 | $1,750 – $4,850 |
Factors that Affect Garden Window Cost
As you can see, there is a wide garden window price spectrum. These factors affect cost:
Material:

Wood frames cost significantly more than vinyl frames.

Size: The smallest garden windows are about 24″ x 24″. The largest can be 72″ wide and nearly as high.
Shelves: Glass shelves can cost $100 to $300 per shelf.
Seat Material: When you upgrade the seat to Pionite, wood-grain laminate or actual wood, it can add up to $400 to the cost.
Frame Color: Choosing a premium color adds several hundred dollars to price.
Vented vs Unvented: Garden windows with opening sashes cost up to 75% more than those with all-fixed windows.
New vs Replacement: Garden window installation cost for new construction, when no siding or old window is in place, is significantly less than the cost for installing a replacement window.
Time of Year: Installation when window companies have less work can produce cost savings compared with having one installed during the peak of the remodeling season.
Who you hire for installation: Finally, who installs your garden window will affect the total cost. A local handyman service will be the cheapest way to go; a window specialty company will cost the most. Keep in mind that quality installation is essential to prevent leaks, air drafts and structural warping of the window, so choose your installer wisely. The best way to get quality installation at a competitive price is to request written estimates from several licensed and insured installers, and to let each know that you're getting multiple bids. 
More Price Comparisons for Window Types