Frequent comments we have received lately relate to the rapidly rising window prices over the last 3 years, so much so that we have struggle to keep our own reported prices in line with what is reflected within the industry. But why are prices so high and what caused the rapid rise? Essentially, window prices in 2023 are so high because of inflation, supply chain issues and higher labor costs. Lumber prices for wood windows were up in 2021 and early 2022, but declined through the rest of the year – a promising sign that the cost of windows might come down.
Let's address the causes for high window prices in more detail before discussing whether the cost of windows in 2023 will go down or continue to rise. There is cause for some optimism, but time will tell.
Why 2023 Window Prices are So High
Costs remain high at the start of 2023 due to factors we've all experienced during the pandemic. The causes are related and overlapping, but they're best explained when listed individually with data from leading economic sources.
Factor 1. Inflation
According to the US Bureau of Labor Statistics, "The Consumer Price Index increased 8.5 percent for the year ended March 2022, following a rise of 7.9 percent from February 2021 to February 2022. The 8.5-percent increase in March was the largest 12-month advance since December 1981."
The next annual numbers are due in March 2023, but they're expected to show a similar increase.
The construction industry was hit particularly hard over that time with a 2022 increase of 14.1% year-on-year.
Factor 2. Demand
Consumer demand – more dollars chasing fewer goods – is a key cause of inflation. During the pandemic, two factors led to higher window prices. First, both the Trump and Biden administrations doled out huge amounts of cash. Secondly, while homeowners stayed home, flush with cash, they decided it was a good time to make upgrades to their houses. This led to demand for home improvements including new windows to "skyrocket," according to one industry source.
Factor 3. High Labor Costs
At the same time, the number of people needing or willing to work, rather than stay home and collect extended unemployment benefits, dropped. Employers like Pella, Jeld-Wen and Andersen windows – employers across the window manufacturing industry – had to pay significantly higher labor rates. And that cost was passed on to consumers.
Factor 4. Supply Chains Problems
The NY Times put it this way, discussing the supply chain crisis at its peak: "Ships stuck at sea, warehouses overflowing, trucks without drivers: The highly intricate and interconnected global supply chain is in upheaval, with little end in sight." Like all industries, North American window manufacturers rely on materials from overseas. Once windows are built, they have to be shipped around the country. Slow-downs and high costs led to high window prices.
Results
According to the National Association of Home Builders, "Building materials prices increased 20.4% year over year and have risen 33% since the start of the pandemic."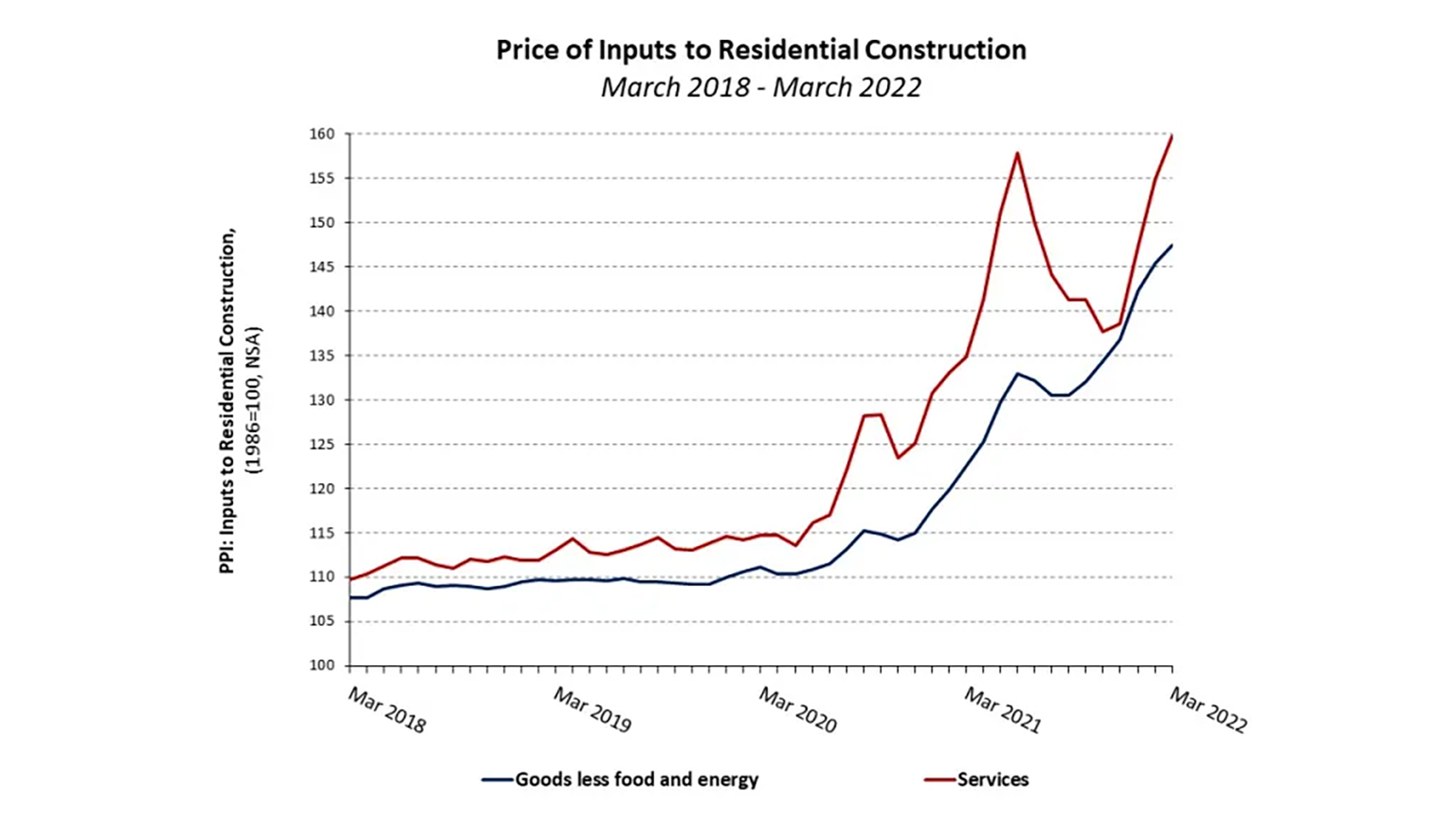 Will Window Prices Rise in 2023
They will likely remain the same or drop slightly.
However, there are also factors that show they might be somewhat higher too. Here are reasons for pessimism, rising window costs, and optimism – maybe they'll be a little lower.
Reasons Window Prices Might Rise in 2023
Inflation is still a major economic problem – prices of most goods are up year over year in the range of 5% to 20%. Inflation in the building materials industry is somewhere around 8% to 10%.
Supply chain issues and difficulties in finding workers are still creating problems, but lower demand for windows – see the next section – is alleviating some of the demand-related price increases.
Secondly, and perhaps this is just pure pessimism, but manufacturers don't like to lower prices. Once a price threshold is crossed, the historic approach seems to be to "not raise prices" rather than lower them.
Reasons Window Prices Will Fall in 2023
Here are the reasons, plus supporting data, indicating 2023 windows prices might level off or even fall.
Demand is Down
During the worst of the pandemic, production of materials fell while the US went through a building boom. As noted, homeowners invested in their homes using the free cash from the government. With travel down due to Covid 19 realities and restrictions and the price of used vehicles way up, money that might have been spent on them was put into home remodeling and new construction.
The result was higher demand, which led to higher prices for all building materials.
With much of the demand satisfied and travel restrictions lifted (yes, they are variable, coming and going based on the latest round of Covid outbreaks), people with extra cash are spreading it around.
Inflation Cools Demand
A second factor in reduced demand is inflation. When there is more money available to spend than goods to spend it on, prices go up.
As a result of higher prices, some homeowners can no longer afford – or don't prefer to make – the expenditure.
Interest Rates are Up
Interest rates on home mortgages (Average of 6.0%), home equity loans & HELOC (6.5% to 7.0%), construction loans and personal loans (7% to 20%+) are all higher. The higher cost of borrowing money is reducing the demand, and that should keep new and replacement window prices from rising too much, if at all.
Lumber Costs are Lower
This, of course, affects wood window prices the most. But lower lumber costs are indicative of costs for other window materials too including vinyl and fiberglass.
Wood costs are down due to the main issue discussed above – reduced demand for wood products due to satisfied demand, higher prices and higher loan rates.
Barden Building Products has identified the three major causes of higher lumber costs from 2020 to late 2022:
Reduced lumber production
A housing boom
Supply chain disruption
As noted, these stresses on prices have all eased. As a result, lumber prices dropped for 9 consecutive months from April through December 2022.
Overall, according to the Structural Building Components Association, lumber prices dropped 26% in 2022. Manufacturers now have full stocks of wood supplies to build Andersen 400 Series, Pella Architectural Series, Marvin Signature Ultimate Wood and other window lines.
Conclusion
The question is this: If costs are down for manufacturers, will that translate into lower prices when you buy windows from a local home improvement store or a local window contractor?
Part of the answer depends on how much higher interest rates on loans will prevent homeowners from making the decision to replace their windows. If demand remains high, then so will prices.
If demand drops, then manufacturers might be motivated to lower prices in order to spur sales.
The best way to know whether new windows are in your budget for 2023 is to get written estimates from several companies in your area. Discuss your window options for wood, for example. Many brands make several grades of them, so there is likely an option to fit your budget. Or consider vinyl windows, which cost less than most wood windows and have a low-maintenance advantages. Fiberglass, composite and aluminum windows might also deliver the results you're looking for based on budget and climate.
Read More of Our Window Buying Guides